Welcome to dog food analysis, which involves diet tips and nutritional facts. This could be the key to a perfect diet to create a healthy well balanced dog. The dog food analysis chart below describes major foods to include in your dog's diet. This is particularly aimed for people who want to prepare their dogs food at home.
Making your own dogs dinner is a sure sign of knowing what diet your dog is actually enjoying. For others, buying a base dry dog food and adding home cooked or raw foods appeals more. Whatever your preferred method, it's always a good idea to know what your dog eats.
Dog food analysis and major nutrients
I often add different foods to my dogs kibble, it can be chicken, fish, rice, fruit or vegetables. It doesn't do any harm to your dogs health by adding extra healthy foods so long as he isn't putting on weight.
Feed your dog the best-quality food you can afford. When I add leftover foods to my dogs kibble, to him its a special treat and it keeps his taste buds active – thats if there's such a thing!
Commercial dog food companies will always believe they've created the perfect formula. They will try to make us believe we can't recreate it at home, that we don't have the power or brains, but that's not true. Back in world war two there was no such thing as commercial dry dog food, and if there was people couldn't afford it. Dogs ate what their owners ate and they weren't worse for it. My mothers dog was a Pomeranian and it lived a healthy full-life. His name was Dixie, he lived twelve years and died of old age – not illness related as we here so much of today.
You can create a balanced diet for your dog; heck most humans don't eat a balanced diet and live amazingly well. This dog food analysis is to help you feed your dog healthily.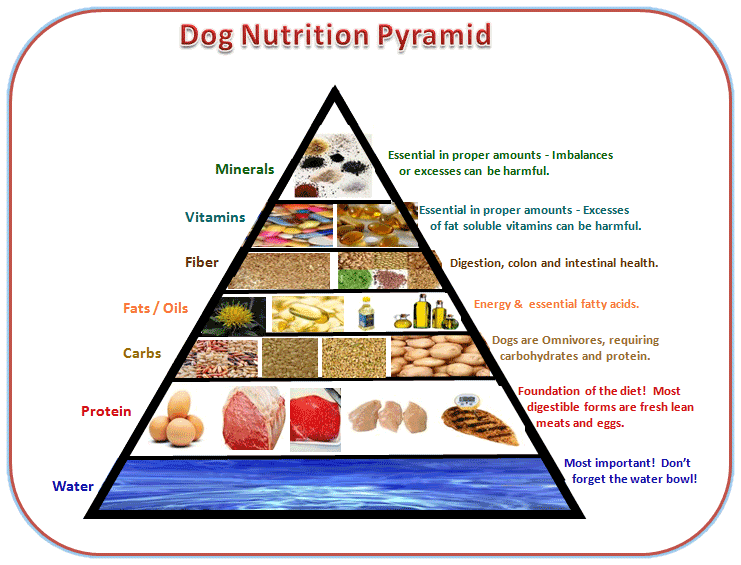 In the dog food analysis picture, the major nutrients are listed in order from bottom to top. However, please bear in mind that all these nutrients are vital.
Fresh water to drink.
Protein mostly from 'named meat meal'.
Carbohydrates mostly from fruit and vegetables.
Fats from 'named' oil.
Fiber mostly from fruit and vegetables, grains are not necessary, but if included they should come from a good source.
Vitamins and Minerals.
Other factors to consider are a dogs exercise levels. Exercise is just as important to contributing a longer wholesome life.
Through good nutrition a dog will have a strong immune system to fight off viruses and diseases effortlessly. We are what we eat, this statement applies to our dogs as well!
Most of the commercial foods found in supermarkets these days are the reason why many dogs have allergies and intolerance's today. Many dog foods aren't nutritionally balanced, even though it may state complete, balanced, natural, or even organic, etc. on the package.
I truly believe the key to a balanced diet is adding quality supplements to quality foods. Preferably your dog should eat organic. The other key ingredient is making sure your dog is in physical shape. Our animals are also the key ingredient to keeping us in good shape!
Even though quality supplements are hard to find, I have compiled a list to help you get started. Check out 'The best dog supplements that work' – find out what brands to choose.
Although picking up a bag of cheap dog food from the supermarket may seem like a good idea, eventually your dog may suffer if he eats it. The so called cheap and cheerful dog food is not nutritionally balanced. Long term, this could have an effect on your vet bills should he become malnourished.
Most of the time companies use euphemisms in their descriptions, this is so you will splash out your hard earned cash to buy their products.
Non-toxic dog food analysis
| | |
| --- | --- |
| Chicken meal or other named meat | Chicken fat or other named fat |
| Human grade meat | Flax oil |
| Organic meat | Hemp oil |
| Fruits | Whole grain brown rice |
| Vegetables | Brewer's yeast |
| Potatoes but not green | Barley |
| Millet | Oats |
*Meat should be the primary ingredient and if possible organic.
For more in-depth information on specific foods check out 'Getting to grips with the best dog foods'.