Dogs are an important part of our lives due to their loyalty and their personality so it is no wonder that there are so many movies out there in which they are the protagonists. In films starring dogs we are usually presented with emotional stories that might be funny or really sad and thus they make great family movies. Let us take a look at the top 10 dog movies in case you are looking for inspiration and if you haven't seen them yet then you should definitely do so.
Hachi: A Dog's Tale
This film was based on a Japanese film from 1987 called Hatchi-Ko and it tells the story of an Akita pet who has been incredibly loyal to his owner. The tale covers more than a decade and takes place in the 1920s. A Tokyo college professor played by Richard Gere is the main character in the film and his dog Hatchi-ko used to wait for him at the train station every day after work. Based on a true story, this film is very emotional and it is a great portrayal of the connection which forms between a dog and his owner.
Marley & Me
This comedy/drama is based on the autobiographical book by John Grogan which has the same name and it tells us the story of the rebel Labrador Retriever called, as you might have guessed, Marley. The dog is always up to some mischievous deed and the Grogan family has to adapt to the chaos the dog is creating but over time a great relation is built. Aside from the funny dog scenes in the beginning there are some real-life problems covered in the film and it has some very dramatic moments.
Eight Below
Another film based on a Japanese production, the Disney adaptation of the film Antarctica was released in 2006 and it tells the tale of the Antarctic wilderness seen through the eyes of Paul Walker. Six Siberian Huskies and two Malamutes are the other characters in this film and they have been left at a research station when a storm began. A rescue mission to save the dogs is the main event in the film and it is a great depiction due to the scenery and the personality of each dog.
My Dog Skip
The memoir of Willie Morris was a best-selling book about a lonely boy who lived in the 1940s Mississippi and how much his life was changed when he got Skip. The 2000 film was based on the book and the story of how a boy's life was improved by the Fox Terrier puppy. It is a sentimental film but it is really enjoyable and makes for a film that will be great for both adults and for children.
Homeward Bound
The story of the Golden Retriever called Shadow, the Bulldog called Chance and the Himalayan cat called Sassy shows us the long voyage they had to undertake to get back to their home. The three got lost and had to go through a lot of adventures to reunite with their loved ones. The 1993 Disney film was a remake of The Incredible Journey released in 1963 and due to its comedic moments it is a very great choice for children but you will probably find it enjoyable too as you are drawn to the characters.
Beethoven
A huge Saint Bernard might not be the first idea you have for the protagonist of a dog film but Beethoven will certainly warm your heart. The giant dog is really lovable and loyal, although he is clumsy at times. Beethoven escaped from some dognappers and then ends up in the hands of a veterinarian who does experiments on animals so he has to be saved. The film was really popular with children and seeing how Charles Grodin, the father of the family turns from a dog-skeptic into a dog lover is quite something.
Turner and Hooch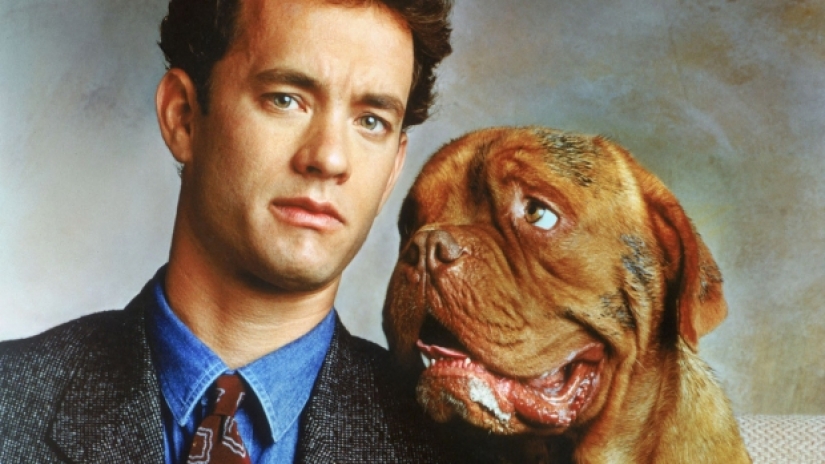 This 1989 comedy is one of the best cop and dog films out there with Tom Hanks playing Turner and his partner becomes a French Mastiff called Hooch. As is sometimes the case, the dog takes some time to adapt to living in his new home and the neat freak detective isn't exactly thrilled at the perspective but needs the dog to solve a murder case. A very fun film and easy to watch, this comedy is really great to watch at any age.
Benji
This dog is really lovable and a 15-year-old mixed breed was playing the part. He becomes a hero when he helps find two children who were kidnapped and saves the day. It was independently produced (with a $500,000 budget that brought $45 million at the box office!) and it combines humor, suspense and a lot of drama. It is still amazing today as the dog is among the most expressive ones filmed and apparently he was rescued from an animal shelter in Los Angeles for the part.
Old Yeller
This Disney classic was released in 1957 so it's quite old but it still retains its charm. The story is simple, about a boy who adopts a yellow hound cross dog that wandered into his family ranch and although he was skeptical at first he ends up loving his new pet. You see the connection built between a boy and his dog and how this helps him become a man. The film is based on a book where the dog was actually a Mountain Cur and it is very emotional, so you should keep some tissues handy.
Lassie Come Home
Released in 1943, this is an all-time classic when it comes to dog films and with stars like Elizabeth Taylor or Roddy McDowell you are certain to enjoy it. The Collie dog called Lassie is famous worldwide and she is a part of a very poor family that has to sell the dog to a wealthy duke. Lassie is determined to return to her rightful family though and the film presents her adventures in the process. A very touching film, this is the one that helped begin the TV series and the films that followed.