Many famous persons display themselves with a cat or a dog but there are some who are really passionate about animals as well. Here is a top of 15 celebrities who love cats and an explanation of why we chose them.
Cameron Diaz
The actress is known for her roles in many romantic comedies and also for being vocal about things that other women would keep private. Her relationship with Justin Timberlake has been widely mediatized but we are interested in another relationship of hers, the one with her cat. Her pet is called Little Man and she often takes him shopping or likes to include him in her pictures.
Martha Stewart
The popular TV personality is often posting pictures of her three cats and loves to talk about them. She owns a himalayan called Bartok and two Calico Persians called Princess Peony and Empress Tang. After having the three furry friends she went on to add new members to the family and thus Vivaldi, Verdi, Electra and Sirius joined the party.
Paul Newman
One of the most important actors of the 1970s, Paul Newman was also a lover of cats as most of his time home was spent with his Burmese cat Louis XIV. He even had a company which made cat food entitled Newman's Own Cat Food and the profits of that go to charitable organizations throughout the globe.
Khloe Kardashian
Famous due to their ways of attracting the attention of the media, the Kardashians became the stars of a TV series with the same name. Khloe, one of the members of the family has a lot of pictures on Instagram with her Bengal kitty.
Bam Margera
The professional skateboarder, stunt performer and TV personality is probably best known for his appearance in the MTV show Jackass but one other thing about his personal life you should know is that he really loves cats. He has a cat called Trouble and he even hosts a radio show called Passionate About Pets.
Penelope Cruz
The highly acclaimed actress played in a lot of popular films and TV shows. Her cat is called Capucina and she is spending a lot of her time on the kitchen counter. Penelope says she likes to keep the window open and many other cats come inside to spend time with her so their house is always filled with fluffy cats.
Zach Galifianakis
The actor and comedian who stood out for films such as The Hangover, Puss in Boots or The Lego Batman Movie is a renowned cat lover. His cat is called Mr. Stevens as a tribute to the famous singer Cat Stevens.
Bill and Hillary Clinton
Chelsea Clinton, the daughter of the couple adopted a stray cat called Socks and the pet started living in the governor's mansion in Arkansas. Later on they moved into the White House and Socks came along. They often mentioned how much joy Socks brought to them and you can notice the cat in many of the photographs they have at the White House.
Ellie Goulding
The British singer is very active on Instagram and Twitter with pictures of her cats so it is not difficult to find out how much she cares about her pets. The two cats she owned in 2015 were the Bengal cats Wallace and Lennon and they were even featured in the video series Pets – They're Just Like Us. At the start of 2017 one more cat has been adopted on New Year's Eve and so she named the cat Eve to recall the date.
Meryl Streep
One of the most appreciated actors of today with so many awards gathered throughout her career, Meryl Streep has also spoken frequently about cats in her interviews. She used to read the scripts she was practicing to her cat and this would help her know when she wasn't feeling the part as the cat would stop purring and walk away. Her Tabby is thus her biggest critic according to her own statements!
Taylor Swift
One of the most popular singers of today, Taylor Swift sold a lot of albums and on her Instagram she loves to share pictures of her cat Meredith. She loves her cat so much that she doesn't bare to leave her alone when she tours so for many concerts the cat accompanies her.
Jane Fonda
The daughter of Henry Fonda became just as popular as her father in the film industry and she was very vocal about the war in Vietnam during the 1970s. Her career continued into the 1980s and through her pictures we often see her Siamese cat next to her as she was very fond of her pet. Jane practiced Yoga and she would do the poses together with her cat so the two were very close.
Morgan Freeman
The actor, producer and narrator has had many well known roles and received an Academy Award for his role in Million Dollar Baby. His cat was also called Morgan and the cat was definitely very fond of the actor as he missed every moment he was away. As soon as he would return, the cat's face brightened and he would try to hug the actor with the paws to show his joy.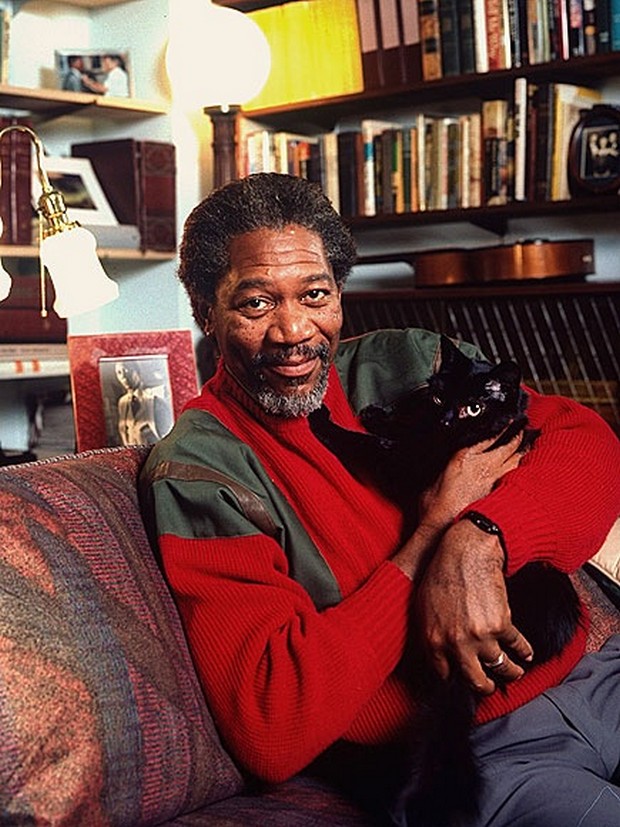 Snoop Dogg
The famous rapper is really talented and due to the name he chose for himself you would think that he is more of a dog person. The truth is that he owns two cats, Teena Marie and Rick James so he is definitely a cat lover but aside from them he also is the owner of eleven dogs so he is still true to his name.
Marlon Brando
He is known for being a famous actor and a troublemaker as he was notoriously difficult to work with. Marlon Brando's career spanned over many decades and he is probably most appreciated today for his roles in Apocalypse Now and in The Godfather. One thing that is less known about the actor is the fact that he loved cats but many pictures prove this. He has been photographed at his typewriter with his cat next to him or while they were playing together.